---
Internet Policy
Policy Protocols and Implementation
Overview:
This is the network model and where our COPS extension fits.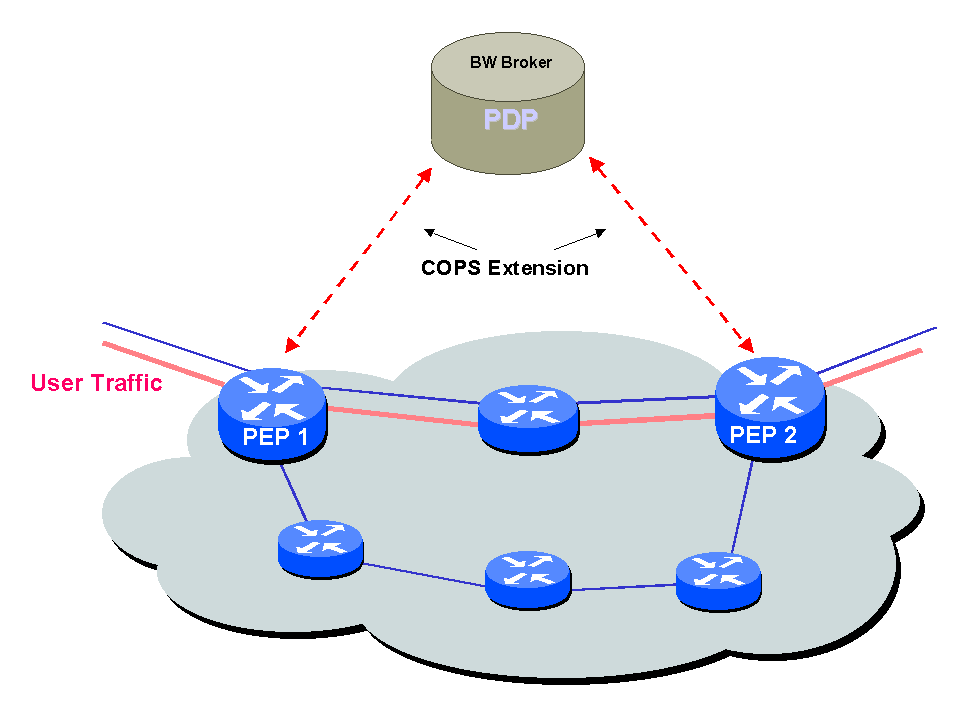 To support traffic engineering, PDP's and PEP's exchange tunnel and filter information via COPS. Two key parameters are
tunnels: inter-connect between two edge routers. It can be in the form of:

RSVP flow
MPLS LSP
DiffServ "virtual" trunk

filter: define the type of user traffic that can use the tunnels. It can be based on:

5-tunple
DSCP
BGP attributes
MPLS LSP
For example, when a PEP (that is, a router) receives tunnel Requests, it needs to interface with MPLS to setup or tear-down LSP's. Whenever something goes wrong with the LSP's, the router needs to notify the problem to the PDP immediately. When a PEP receives filter Requests, it setup packet filters to "pipe" user data into the tunnel(s).
IETF Drafts:
Implementation:
The COPS (client and server) extension (with MPLS LSP interface, supporting 5-tuple and BGP filters) had been developed for the cancelled Lucent PacketStar Router project. Nothing is coming out of 10K+ lines of code! Sigh!!
Some proposals from the past...
P. Pan, H. Schulzrinne, P. Calhoun, DIAMETER: Policy and Accounting Extension for SIP, August, 1998.

G. Zorn, P. Pan, P. Calhoun, DIAMETER Framework, August, 1998.
---
Last updated by Ping Pan